ALMA series smart water bar purifier
ALMA series water bar purifiers are designed and manufactured to the highest standards. The device is equipped with an internal smart filtration system, which helps you enjoy an unlimited supply of high-quality, healthy and tasty water- be it cold, hot or ambient temperature.
Please, read this manual carefully before operating the device.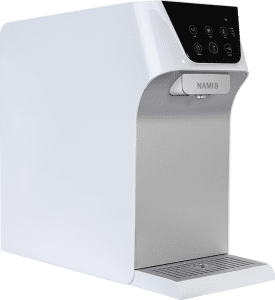 1. Keep electrical appliances out of reach from children. Do not let them operate the appliances without supervision.

2. To prevent the risk of electrical shock, do not immerse the product, cord or plug into water or any other liquids.
3. If the power cord or plug is damaged, it must be replaced by the service center or a qualified technician to avoid any hazard. 
Warning: In order to prevent the risk of fire, electrical shock or injury to people or property, please, read carefully and follow below instructions.
1. Always operate the device from a power source of the same voltage and frequency.
2. Always switch off and unplug the water bar from the outlet when not in use, before assembling or disassembling parts and before cleaning. Fully assemble the set before operating.
3. Always disconnect the appliance when moving it. 
Power on for the first time:
1) Before power on, please check if the raw water pipeline is well connected?
Make sure the heating switch on the back of the machine is on OFF (0) status.
 
2) Turn on the heating switch at the rear of the machine to start the heating function.
Please cut off the water supply before replacing filters.
1. Unpack the device and install the water collector.

2. Install the quick joint on the water pipe.

3. Clean the filter for the first time by flushing it for 10 minutes.

4. Place the Drip tray properly inside the machine.

5. Take out the pink quick joint at the rear of the device base plate, and then take out the blue plug.

6. Install supply power and begin to use the Water bar.