"Nami8" anti-vandal water bars are recommended for various adaptable open and closed spaces, such as: public gathering places, schools, kindergartens, universities, hospitals and others. The new technology water bar is made of high quality, stainless steel material that does not get damaged easily. Due to the international standard filtration system in it, the tap water is being purified. This as well improves the quality and the taste of water, which is useful for the human body.
With the anti-vandal bars, you can enjoy both warm and cold temperature water. This modern device is equipped with two taps, one of which is of the fountain technology. With the touch of a button you can enjoy healthy, filtered water.
And the second tap is intended for filling reusable bottles.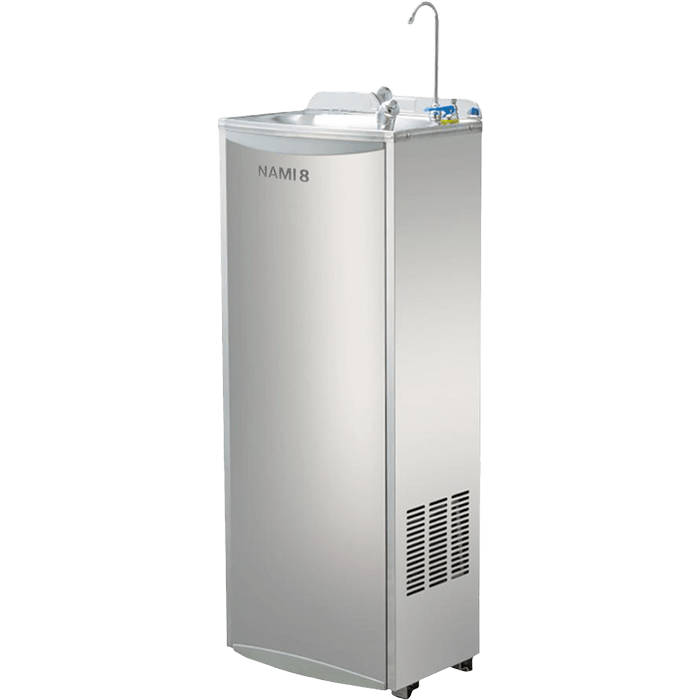 Anti-vandal water dispenser key features:
Fountains from one of the world's leading producers of water fountains and water coolers

Fountain cooler is compact, attractive and economical

Stainless steel cabinet occupies only one square foot and has a removable front for service and maintenance convenience

Separate base is constructed of rugged, heavy-duty galvanized steel

Delivers 20L of chilled drinking water an hour

Cold water thermostat: temperature is controlled by an adjustable thermostat with off position that is easily accessible on the rear of the cabinet

Various models of filters can be factory-installed on request

Power requirement: 220 to 240V, 50Hz

Weight: 26.5kg

Certifications: NSF CE and UL    

Heating: N/A 

    

   

Cooling: 200W (Force cooling system)        

Compressor type: hermetic, with overload protector, R134a        

Cold water tank capacity: 4.2L (1.1Gallon)        

 

      

Filter system: internally installed double super fine filters, PP+CTO